Design the heart of your home with Bergari - we take special approach when it comes to delivering your kitchen project. We don't just make kitchens with standard size units and fill the rest with panels. Our aim is to bespoke design your kitchen considering your floor plans, to work around the contours of the room to create nice flowing design, position appliances in the right places, plan the areas where you cook, eat and rest. We think outside of the box and offer ideas and solutions that would work for you and your family. Our principle is if we do let us do it right the first time.
The core of kitchen cupboards is made from 18mm MFC board supplied by Egger, Kronospan and Swiss Krono – the colours of decors is amazing and accounts to more than 300 various finishes.
Kitchen Door Fronts

Kitchen door fronts are the most attractive part of the kitchen and we work with manufacturers such as Niemann, AGT, Rehau who can meet your expectations about the quality and price. Our kitchen door catalogue offers:

Acrylic faced doors ranging from mate and high gloss and finishing with contemporary finishes such as brushed metal, concrete, glass and other modern designs.
Painted and lacquered MDF doors – matte or high gloss finish completed in your chosen colour from RAL chart. Various grooving decors, shaker style doors, integrated handles.
Vinyl and foil wrap kitchen fronts where you need to create that special look that nothing else can deliver. Various grooving decors, shaker style doors
Glass kitchen doors, tinted, matte, painted

Veneered - for wood feel and finish

Solid wood kitchen doors - for people who loves traditional or combing the two styles together.

All the precision cutting and drilling, laser edging application, painting and lacquering is done at the factory with the latest equipment that delivers high quality end product.
| | |
| --- | --- |
| | We have great experience in working with different materials and accessories so whether you are looking for a kitchen with GOLA frames to give you sleek handless finish, installing kitchen appliances of your own choice or a luxury finish with moulded elements Bergari can deliver your project and let you enjoy your home. |
| | |
| --- | --- |
| We provide modern looking door fronts which are made from a high quality MDF with either a matte or high gloss finish. Such doors can come in many finishes such as acrylic, painted MDF, Film wrap, Solid wood and veneer. For a more accurate colour matching, we offer matte or gloss painted facades where colours are chosen in RAL colour chart. We also offer technology that allows us to create custom recessed style doors known as shaker style. Our shaker style kitchens come with integrated handles. More information on this can be found on our kitchen doors page. | |
Worktops
When it comes down to worktop selection, we offer a great choice of chipboard worktops made by Egger and Kronospan. We are also partnering with companies in UK who manufacture and install granite worktops and have huge selection of finishes and choices you could see and touch. This will give you timeless finish which you will enjoy every day.
Base units
We make bespoke size cabinets to best fit in your kitchen plan and fill the space the way you need it and not the way you can have it. This is the difference when Bergari takes on the project - we take an individual approach and working around the contours of the room, considering appliances that you have or may have in the future and other accessories.
We use high quality materials supplied by worldwide manufactures like Egger, Kronospan, Luxeform, Niemann, AGT, Bel Viso.
Whether you are looking for a modern handless solution or luxury design with moulded elements Bergari can deliver your project.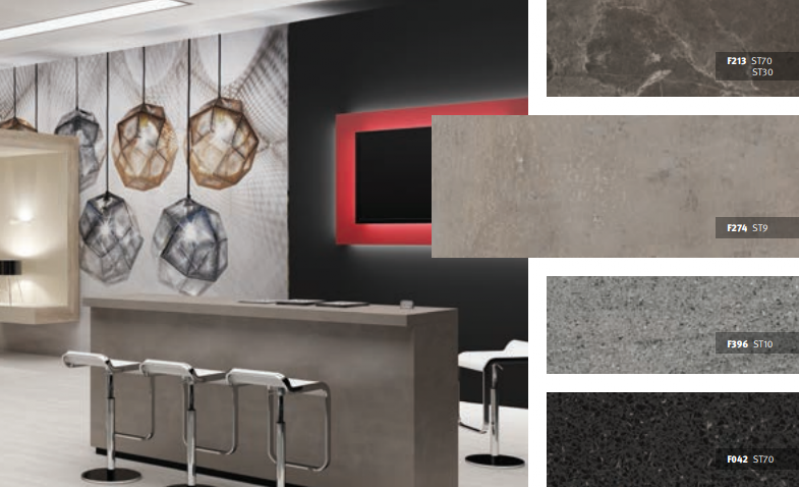 What can Bergari integrate with your kitchen?
Cupboard accessories that we offer will make access to difficult spaces easy and will help to organise your space giving your kitchen a nice touch. All the following are available for you to make your kitchen:
Pull out larder unit storage
Magic corners, carousels
Pull out cargo storage
Integrated recycling bin
Bespoke cutlery trays
For more information feel free to consult with us and we will be able to advise on the best approach and solutions for your project.
Renovation
Bergari has capability of undertaking projects for a complete kitchen room renovation and apart from kitchen installation service also offers tiling for floor and walls, integrated lights, plumbing an gas work carried out by certified staff, glass splashbacks of custom shapes and designs